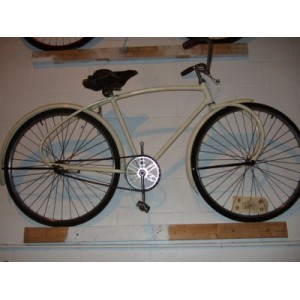 1936 CCM Flyte
One of our crown jewels, a 1936 CCM Flyte with Troxel tool box saddle. This bike was only sold for five years, and only came with the tool box saddle and curved forks for the first few. The basis of the design was to make a smooth riding, aerodynamic looking bicycle. For more info, please see:
http://www.ccmflyte.com/frame.htm
Also, we are looking for a rear fender reflector for this bike. Please e-mail us if you have one available.