Surly Bill and Ted the Trailers
There are quite a few options these days for trailers that carry kids or dogs, luggage, groceries, and other relatively small loads. Trailers are nice because they can be detached when not in use, but most trailers can't haul much weight and the ones that do suffer some design drawbacks such as incompatibility with many kinds of bikes. Conversely, there are quite a few cargo bikes that can haul bigger loads, but cargo bikes meant for a lot of weight can be difficult to load, are sometimes difficult to ride (sometimes due to the bike's design, and sometimes due to the sheer weight of the bike itself), and require a lot of space to store. We felt we could help bridge the gap, so we designed two trailers meant to haul a lot, to be
easy
to use, and which would work with a bike you have already. We make two bed lengths so you can find one that suits your needs. Bill is the long one, and Ted is the short bed (get it? Bill has more letters than Ted, so it goes with the longer trailer). The beds and hitch are constructed mainly of TIG-welded 4130 CroMoly steel. CroMoly steel is tough and durable and well-suited to this task. We used 304 stainless steel hardware where appropriate to ensure corrosion resistance and a long life. The beds have threaded eyelets for bolting down decking, corner posts, or creating other custom accessories using readily-accessible materials from your local hardware store, lumberyard or home improvement store. The wheels are 16", keeping cargo low to the ground. 16" wheels are also stronger than larger diameter wheels favored by many trailers. We designed our own hubs to meet the requirements of this frame. The rims are double-wall with stainless eyelets. The spokes are stainless steel, radially laced. Combined with smooth,
easy
rolling 1.95" tires, these are stout wheels designed specific to their purpose. Our hitch system is designed to be as universal as possible. Regardless of the configuration of your bike frame, our hitch will likely fit your bike. It doesn't clamp to the bike's frame tubes. Instead, it attaches using a proprietary axle skewer or thread-on axle nuts. The Surly trailer hitch works with full-suspension frames, disc brakes, rear racks and fenders. It adjusts to accommodate hub widths from 120 – 145mm and allows you to align the centerline of the trailer on the centerline of the bike. It will work with bikes that have wheels as small as 20" and as large as 29" while keeping the bed level with the ground. This is especially important when you are hauling long items that hang off the back of the trailer (lumber, tubing, ladders, etc.). There are some things to learn about using a trailer like this to haul stuff. You'll probably want to use a bike with gears, for example. As well, learning to load it right becomes more important as cargo weight increases. Load it over the axles, balancing the load. Too much weight on the hitch (tongue weight), or too much weight hanging off the back, and the bike's handling will be compromised, making it harder to control and potentially damaging your bike, the trailer, or you. Finally, we do not recommend ever carrying people or furry friends on Surly trailers. Sure it might be fun, but someone could get seriously hurt and that's not fun at all. The frame is a solid unit constructed of welded CroMoly steel square tubes. The hitch can be adjusted to level the bed, making it easier to carry long items. The wheel covers keep cargo from shifting into spokes and provide load-bearing support for items that don't fit between them. Threaded bosses, in the wheel covers, provide mounting points for fenders and spoke guards (not included). The hitch is highly adjustable to fit most types of bikes and a wide variety of wheel diameters and hub widths.
Surly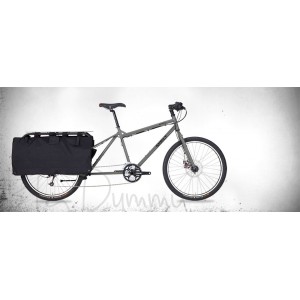 2015 Surly Big Dummy
Big Dummy is one of those cargo bikes that seem to be getting so much attention lately. Actually, the Big Dummy has been around for quite a while now. It's built around the Longtail standard design platform, which means that Xtracycle or Surly accessories can be added depending on what you want to carry, or you can build your own to meet whatever hauling needs you have. However, being a dedicated single-piece frame instead of an add-on to an existing bike, it's more stout and resistant to torsional flex, and this makes it ride better and last longer than longbike add-ons. Like all our frames, it's made of steel and sports lots of little touches that you've come to love in a Surly, like clearance for bigger tires and common component sizing. Figure on being able to carry about 200 pounds (90kg) of cargo. The load weight, and how it's loaded, will affect the handling somewhat. Also, plan on using gears, especially as cargo weight increases. This may seem obvious, but as you get comfy with it you'll use your full range of gears as never before. The parts kit is good quality, and suitable to loaded as well as unloaded riding. It's got a 3x10 drivetrain, Avid BB7 mechanical disc brakes, Shimano Deore hubs, derailleurs and shifters and 26 x 2.1˝ Continental Town & Country tires. We've outfitted it with our own Surly bags, deck and rails kit…everything you need for the majority of stuff you might carry, like groceries, shovels, bags of charcoal or mulch, guitars, lamps, mannequins, whatever. Bags, deck and rails are all designed to improve on previous offerings and work together to make sure your stuff is transported with safety and stability. The beauty of the Longtail standard is that it is an open design, meaning you can find other stuff to fit the system. Xtracycle in particular makes a lot of great stuff to expand what you can haul and how you can haul it, and many people have manufactured their own plug-in pieces when their needs outstripped what was available. Get creative, and get hauling.