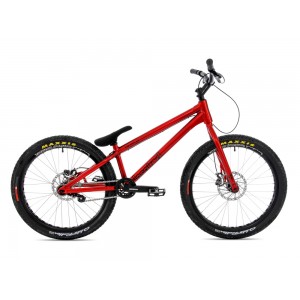 2015 Inspired Fourplay
The Inspired Fourplay Pro features a revised frame and upgraded component specification that means the complete bike offers even better value for money and all-round performance. Geometry changes, including shorter chainstays and lower bottom bracket height, help to improve the manoeuvrability and responsive handling of the Fourplay making it more focused for modern street riding. The front of the frame features butted tubes to help reduce weight whilst strength is maintained by using external top and down tube gussets. To increase strength, stiffness and tyre clearance the Fourplay uses a development of the proven one-piece bottom bracket and chainstay yoke found on the previous model. Excess material has been removed from this area to help reduce the weight while shortening the chainstays and maintaining the associated performance benefits. The rear of the frame features exclusive-design seat and chainstay tubing that improve both crank and heel clearance. On the left side of the frame, a forged disc mount combines with an additional gusset and bracing tube to create a solid mount for the rear brake. The custom, forged Inspired dropouts and neat integrated tensioner mount help to maintain the clean and stylish look of the frame, while improved weld angles and contact area help to maximise strength. Built with a range of Inspired and Truvativ products, no corners have been cut to get the durable and quality bike spec we wanted for a reasonable price. Up front is a Inspired Team fork that features a new 7075 steerer design, Inspired High Riser bar with Trialtech Sport stem and FSA Orbit headset. Truvativ Hussefelt trials cranks create the platform for an excellent drivetrain with a KMC chain, Trialtech platform pedals and custom single sided sprung chain tensioner completing the setup. Braking duties are taken care of by Avid hydraulic disc brakes front and rear, giving the rider the necessary level of control they require. For the wheels, we decided on upgrading to drilled Inspired Team rims built onto Trialtech's super-smooth disc hubs front and rear. Available in Gloss Red or Shot Blast Silver colour schemes.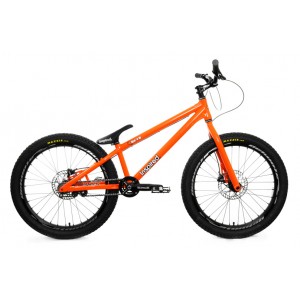 Inspired Skye
Inspired Bicycles is excited to announce the much anticipated arrival of the Skye 24" street bike, as ridden by street riding legend Danny MacAskill. Named in honour of the small Scottish island where Danny grew up, the Skye has been developed to meet the specific demands of a new generation of progressive street and trials riders. The geometry of the Skye bike has been refined by continual testing and feedback from Danny as well as using the knowledge and experience gained from producing the World's leading street bikes. As a result, the Skye offers a lively and responsive ride which is perfect for the advanced tricks and creative lines that our riders are getting dialled. When attempting the sort of dangerous lines that Danny likes to try on a regular basis, it's important to have 100% confidence in your machinery and therefore the Skye frame and fork feature bolt through axles to ensure that everything stays in it's place no matter what. The axle systems combine with a one-piece bottom bracket and chainstay yoke and unique seatstay yoke to maximise stiffness resulting in sharper reactions and improved feel. The frame features two brake mount options for increased adaptability; a reinforced IS disc mount for use with a rear disc brake and a pair of precision CNC machined, low profile 4-Bolt brake mounts for use with a hydraulic rim brake. Exclusive-design seat and chainstay tubing improves both crank and heel clearance whilst the compact dropouts and neat CNC gear hanger maintain the clean and stylish look of the frame. The complete bike has been specified with a selection of top of the range parts, many of which are used by Danny on his own personal bike including custom Hope Pro 2 Evo and Pro 2 Trials hubs, Hope stem and Atomlab rims. Each component has been chosen to provide the high strength and durability that the frame and fork demands without resulting to an excessively high weight. Every aspect of the bike has been analysed to ensure it performs at the highest level possible and every detail has been considered. Even the wheels are individually laced and 100% hand built in the UK by specialists who have the necessary experience to create wheels which can handle just about any level of riding. Available in Gloss Orange only.