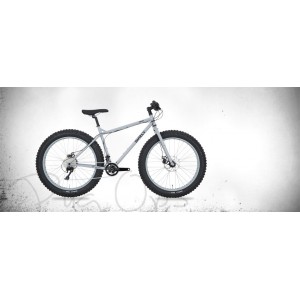 2015 Surly Pug Ops
If you're looking at this bike there's a good chance you already know what you're looking at, and if you don't then check out the Pugsley and Moonlander pages. There's plenty of info there to get you up to speed. Pug Ops shares the same frame as the standard Pugsley, and it has the same non-offset fork. The fork has clearance for 4.8˝ tires on 100mm rims, it's spaced for 135mm hubs and has cage-mounting bosses on each leg for running either standard bottle cages in a high or low position or a larger gear cage. It isn't just the wider rims that set it apart though. Where the standard Pugsley sports 3.8" tires on 65mm rims and the Moonlander runs 4.8" tires on 100mm rims, Pug Ops has 3.8˝ Nate tires on 82mm Rolling Darryl rims, increasing the footprint of the 3.8" tire, and thereby its float and traction, while keeping the wheel weight lower than Moonlander. Many of Pug Ops' parts are nicer. It gets our O.D. crank with 36/22 rings, 60tpi Nate 3.8˝ tires, a mix of SRAM X7 and X9 derailleurs, 180/160mm front/rear rotors with all black SRAM Guide RS hydraulic disc brakes.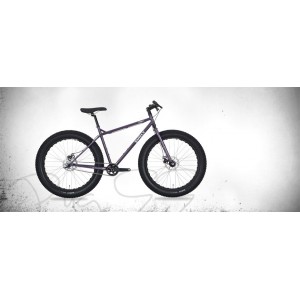 2015 Surly Pug SS
If you've ever ridden a singlespeed you probably remember it being the most fun you've had on a bike but you may have found it odd how little you thought about the bike while you were riding. It was just you, hauling ass down the trail. It was just you pedaling for all you were worth. There was no noise… no clunky. There was only speed, one speed, only fun. There really isn't a better frame to give the single speed treatment to than the Pugsley. It's the same E.D. coated, proprietary Surly 4130 Cro-Moly we all know and love. It's durable, relatively light and uses size specific tubing for a tuned and lively ride. And, it can fit gigantic tires. The parts spec on this bike is what you'd expect to see on a single speed, picked because of its simplicity and radness. Knard 3.8" tires on 65mm rims are a versatile combo that will provide the same great float and traction of any fat bike without slowing you down on the hard stuff. Take the Pugsley SS and ride it at stuff as fast as you can, screaming. Charge the drifting snow late at night. Derby until you puke. The Pugsley SS demands this type of behavior. It is a single speed and it will not be denied.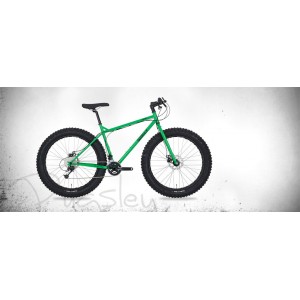 2015 Surly Pugsley
The Pugsley frame is equipped with 135mm spaced horizontal rear-loading dropouts with a derailleur hanger. The rear end of the frame is offset 17.5mm so any type of drivetrain setup can be used without having to worry about chain-on-tire rub. Pugsley frames also comes with an internal ED coating, which is a process that coats the frame inside and out with a protective layer that provides a foundation for the finish and gives an added level of protection from corrosion on the inside of the frame. We still recommend treating your frame with a protectant such as Framesaver or Boeshield. Pugsley is available as a frameset and as a complete bike. The frame will accept tires up to 3.8"wide on 84mm rims. The fork is a 135mm spaced symmetric version with extra water bottle cage brazeons on each leg and can handle a 4.8" tire if you want to run the big meats up front. Being the supremely versatile machine it is, the addition of an offset fork gives the rider the ability to swap front and rear wheels. This can be especially handy if you were to find yourself with a blown freehub or completely annihilated rear derailleur in frigid temps or stranded deep in the indifferent forest. The standard Pugsley complete comes with a mix of components that were chosen for reliability and value. Complete bikes come with Nate tires on 65mm rims for a wide range of drivetrain options. Microshift thumbshifters work well especially when used with mittens and trusty Avid BB7 cable disc brakes fulfill all of your speed modulating desires. This is a solid kit that will serve you well wherever you go. Pugsley is offered in sizes XS (about 14˝) to XL (about 22˝).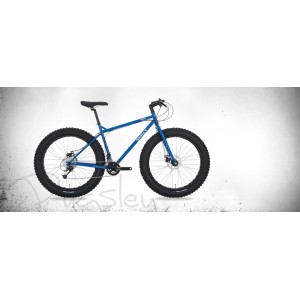 Pugsley
The go-to fat bike, the Pugsley is the cornerstone of the all-terrain phenomenon. Low-pressure in both the tires and rider expectations, nothing beats this monster when something needs runnin' over.
Specs
for my homies.